Tree Removal Newcastle
Cutting Edge Tree Maintenance is Newcastle's leading tree removal service. Our team of experienced professionals provides safe, efficient, and cost-effective tree removal solutions to residential, commercial and strata clients. With years of experience in the industry, we have established ourselves as the go-to company for all your tree removal needs.
We understand that tree removal can be a daunting task, and that's why we take pride in providing top-notch service that is both efficient and affordable. At Cutting Edge Tree Maintenance, we use cutting-edge equipment and techniques to ensure we get the job done right the first time.
Our highly skilled team of tree removal experts has years of experience and the necessary equipment to handle any tree removal job, no matter how big or small. We take great care in ensuring that the work is done safely and with minimal disruption to your property.
Cutting Edge Tree Maintenance stands out from the competition regarding tree removal services. We have built a solid reputation for delivering exceptional service and are committed to providing our clients with the best possible service. Contact us today by filling in the contact form below or by calling us on 02 4003 4400 to schedule an appointment and experience for yourself why we are the best tree removal service in Newcastle.
Do you need to know the local Newcastle City Council Tree Regulations?
Or do you want to know about the 10/50 Fire Regulations?
Do you need assistance applying to the Newcastle City Council for tree removal?
We can help you will this and so much more.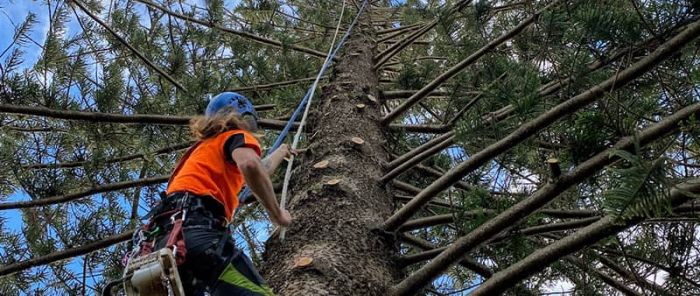 Cutting Edge Tree Maintenance – Services Provided
We provide specialist tree pruning, tree lopping, dead wooding, tree removal, and arborist reports.
Our team of licensed arborists services all of the Newcastle area: Adamstown, Adamstown Heights, Bar Beach, Beresfield, Birmingham Gardens, Black Hill, Broadmeadow, Callaghan, Carrington, Cooks Hill, Elermore Vale, Fletcher, Fullerton Cove, Georgetown, Hamilton, Hamilton East, Hamilton North, Hamilton South, Hexham, Islington, Jesmond, Kooragang, Kotara, Lambton, Lenaghan, Maryland, Maryville, Mayfield, Mayfield East, Mayfield North, Mayfield West, Merewether, Merewether Heights, Minmi, New Lambton, New Lambton Heights, Newcastle, Newcastle East, Newcastle West, North Lambton, Rankin Park, Sandgate, Shortland, Stockton, Tarro, The Hill, The Junction, Tighes Hill, Wallsend, Warabrook, Waratah, Waratah West and Wickham.
After years of working closely with the Newcastle City Council, we have the know-how and the contacts to handle all the paperwork and requirements for tree removal in Newcastle.
Most of our work comes from word of mouth; happy clients recommend us to family, friends and neighbours. That's why we strive to give excellent customer service; a happy client is the best publicity money can buy.
We have simplified our arborist services to spare you effort and aggravation; we ensure that you get the best professional assistance directly from a qualified consultant arborist by cutting out the middleman.
Expert Tree Services
Our expert arborists are continually trained in the latest techniques and safety protocols to ensure you get the best and safest tree removal service possible.
We guarantee that our team is fully trained, licensed and insured and that all our work will follow the relevant safety requirements and legislation.
Before we think about tree removal, we study all the possibilities to save the tree and what will be best for the local fauna. A tree is more than just a piece of wood; it's a living thing that provides protection and shade to all those in the area.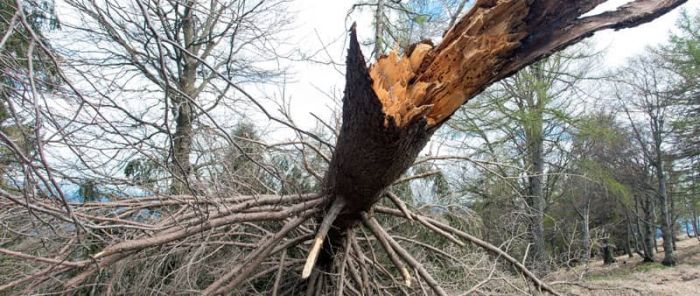 Tree Services Done Right, The First Time
Cutting Edge Tree Maintenance has an extensively trained team of tree service professionals who have completed a wide range of advanced tree removal projects and arborist services throughout the Hunter Valley and Newcastle regions.
Don't settle for less by hiring amateurs. We are confident that we offer the best value-for-money arborist team in the Newcastle area. In addition, our commitment to safe practices has resulted in a zero-incident safety record. Meaning that not only can we pass on the savings to you, but you can also be assured that no accidents or incidents will occur on your property.
We also have an in-depth knowledge of horticulture and arboriculture, ensuring that your trees receive the highest standard of care; Cutting Edge Tree Maintenance offers the most dependable and trustworthy arborist reports, diagnoses, and assessments if you are concerned about your trees' long-term health and appearance.
Our efficient service guarantees that you won't waste your time waiting around. Choose Cutting Edge Tree Maintenance for exceptional tree removal and arborist services that you can rely on.
Newcastle Tree Removal
Do you have a diseased tree on your commercial property, a dead tree on your family property, or a large tree encroaching on your strata-managed property?
Look no further! Cutting Edge Tree Maintenance offers exceptional tree removal services in Newcastle. We take pride in putting the customer's needs first and providing clear and upfront communication with complete transparency.
Say goodbye to unexpected costs with our fixed prices, and enjoy the results of our unique skill set. Our #1-rated tree removal service is ready to impress you with our unparalleled expertise and professionalism.
Call Cutting Edge Tree Maintenance today on 02 4003 4400 to request a free quotation and experience Newcastle's best tree removal service!
More Than Just Tree Removal
Maybe your tree doesn't need to be removed, but just a little love. At Cutting Edge Tree Maintenance, we provide much more than just tree removal; we offer a wide range of services:
Often before a tree needs to be removed, it needs pruning correctly; that's why we offer the following types of pruning:
Canopy lift
Reduction
Branch removal
Thinning
Shaping
Pollarding
Tree Removal Service Areas:
Tree Removal Port Stephens
Tree Removal Maitland
And many more areas, so if you need tree removal experts, don't doubt to contact Cutting Edge Tree Maintenance on 02 4003 4400.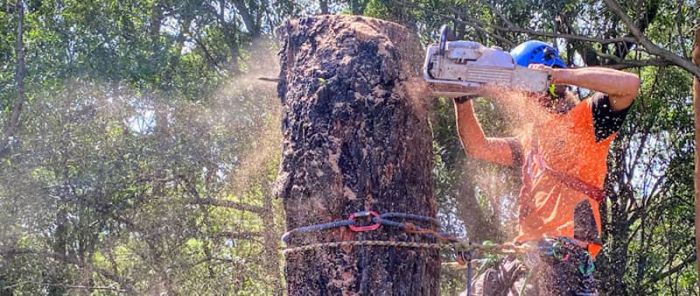 Experience Safe and Professional Tree Services With Our Expert Team
We believe in prioritizing safety and keeping up-to-date with hazard assessments and safe work method statements. Our class-leading machinery is meticulously maintained, ensuring every job is completed safely.
Don't just take our word for it! Our numerous positive reviews online speak for themselves, showcasing the exceptional quality of our work and professionalism in every aspect of our business.
Put our team to the test and discover why we are the leading qualified arborists and tree removal experts in Newcastle. Contact us today for a free quote by phone or using the contact form below. We will get back to you as quickly as possible to discuss how we can best assist you with your tree service needs.