Arborist Services
When it comes to trees and their maintenance, you need more than a gardener because you need someone that knows trees. So, it's essential to hire an arborist who is qualified and experienced. In Newcastle, Lake Macquarie, Hunter Valley, Port Stephens, Warners Bay, and other areas in New South Wales, arborist services are in high demand. This has caused an influx of unqualified tree-loppers pretending to be arborists. So, in this article, we'll cover:
What Is an Arborist?
An arborist, also known as a tree surgeon, is a trained professional who specialises in the cultivation, management, and maintenance of trees, shrubs, and other woody plants. An arborist's duties include planting, pruning, dead wooding, fertilising, treating diseases and pests, and tree removal when necessary.
Arborists also assess trees to determine their structural stability, overall health, and potential hazard assessments. They use their knowledge of tree biology, physiology, and ecology to make informed recommendations about tree care and management. Arborists may work in a variety of settings, including residential and commercial or stata properties and even for local councils or governmental agencies. If you want to know more about arborists or you have a question about your tree, give us a call on 02 4003 4400. One of our arborists will gladly answer any of your questions and can arrange an appointment to come see your tree.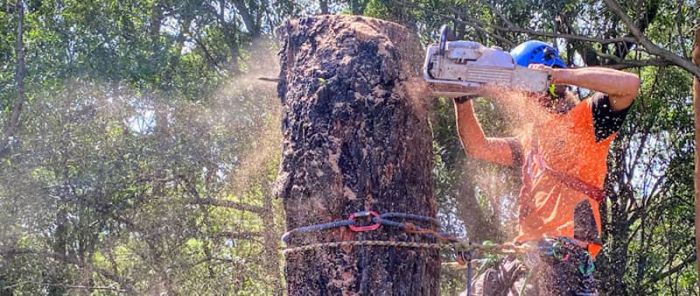 Why Choose an Arborist?
There are several reasons why choosing an arborist over a regular landscaper or gardener is of utmost importance. First and foremost, arborists have specialised knowledge and training that enables them to care for trees correctly. They understand the unique needs and characteristics of different tree species and can identify and address issues that other professionals might overlook.
Additionally, arborists are equipped with the necessary tools and equipment to perform tree maintenance safely and efficiently. They are trained in safe work practices, including the use of personal protective equipment, and can ensure that tree work is carried out without damaging property or endangering people.
Finally, hiring an arborist can save you time and money in the long run. Proper tree care can prevent problems such as disease, pest infestations, and structural failure, which can be costly to fix. Regular maintenance can also extend the lifespan of your trees and enhance the aesthetic value of your property.
What Is an Arborist Report?
If you're planning any construction or landscaping projects that involve trees, you may need an arborist report. This report provides a detailed assessment of the trees on your property, which includes things like the species, size, age, and health. Another key factor of an arborist report is that it identifies potential risks or hazards that need to be addressed before any work begins.
As part of the development approval process, local councils and other government bodies often require an arborist report. It may also be requested by insurance companies or legal professionals in cases of property damage or personal injury.
An arborist report can also be beneficial for property owners who want to preserve and protect their trees. The report can provide valuable information about the health and condition of trees, including any issues that need to be addressed. With this knowledge, property owners can take proactive steps to maintain and care for their trees, which can extend their lifespan and enhance the beauty and value of their property. Arborist reports are one of the services we provide, so if you need one, or any other tree-related service, give us a call at 02 4003 4400.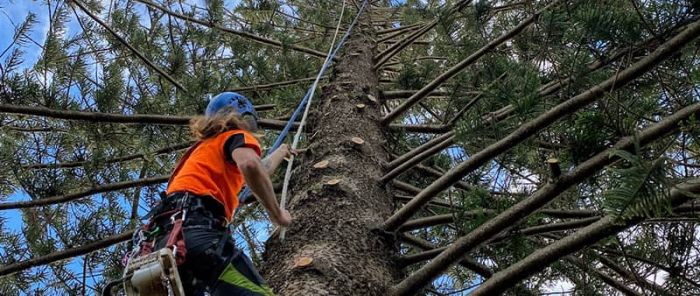 Arborists & Tree Removal
While arborists are trained to care for trees, there are situations where tree removal is necessary. For example, if a tree is dead, diseased, or structurally unstable, it may pose a safety hazard and need to be removed.
Arborists can also remove trees that are interfering with power lines, obstruct construction projects, or block views. When removing trees, arborists use specialised equipment and techniques to ensure that the job is done safely and efficiently.
In some cases, arborists may recommend alternatives to tree removal, such as pruning or cabling. These methods can help address structural issues or promote tree health while avoiding the need for removal.
It's important to note that tree removal should always be carried out by a qualified arborist. Attempting to remove trees yourself or hiring untrained individuals can be dangerous and lead to property damage, injury or even death.
Specialised Tree Diagnostics & Treatments
Arborists are also trained to diagnose and treat a wide range of tree diseases and pests. Some common issues that arborists address include root rot, canker, and insect infestations.
Arborists use a variety of methods to diagnose tree issues, including visual inspections, laboratory testing, and other diagnostic tools. Once the issue has been identified, arborists can recommend a treatment plan that may include pruning, fertilising or the application of pesticides, other treatments or, in the worst of cases, tree removal.
Arborists also have experience treating tree injuries, such as broken branches or wounds caused by pests or weather events. Proper treatment of tree injuries can prevent further damage and promote healing, which can help trees recover more quickly and can even save the tree.
Choose the Right Arborist
Choosing the right arborist for your needs can seem overwhelming, but there are a few key factors to consider. First and foremost, make sure the arborist you're considering is licensed and insured. This will ensure that they are qualified to perform the necessary work and that you're protected in case of damage or injury.
Next, look for an arborist with experience in the specific services you require. For example, if you need tree removal or stump grinding, make sure the arborist has the necessary expertise and equipment to perform the job safely and efficiently.
It's also a good idea to ask for references and check online reviews before making a decision. This will give you an idea of the arborist's track record and customer satisfaction levels.
Finally, make sure you understand the arborist's pricing structure and what services are included in their fees. Some arborists may charge by the hour, while others may offer flat rates for specific services. Are you worried about a tree? Then don't wait any longer, and call us now 02 4003 4400.
Why Choose Cutting Edge Tree Maintenance?
Cutting Edge Tree Maintenance is a leading provider of arborist services in Newcastle, Lake Macquarie, Hunter Valley, Port Stephens, Warners Bay, and surrounding areas. Our team of qualified arborists has the knowledge, experience, and equipment to handle all of your tree care needs.
We offer a wide range of services, including tree removal, pruning, stump grinding, and tree diagnostics and treatments. We also provide arborist reports for property owners who need them as part of the development approval process.
At Cutting Edge Tree Maintenance, we prioritise safety and efficiency in all of our work. We use state-of-the-art equipment and techniques to ensure that all tree work is carried out without damage to property or risk to people.
As well as having the training and experience, we have all the needed insurance, so you can be assured that if anything ever goes wrong, everything will be covered by our insurance. But thankfully, till now, we haven't needed it!
We also offer competitive pricing and transparent fees, so you can feel confident that you're getting the best value for your money. And with our commitment to customer satisfaction, you can trust that we'll work hard to ensure that you're happy with the results of our work.
In short, here are the main reasons why you should choose Cutting Edge Tree Maintenance:
Affordable arborist services
Fully qualified, licensed and insured
Complete range of tree services
Commercial, strata and residential
Servicing Maitland, Newcastle and the Hunter Valley
Locally owned and operated
Remember, arborist services are essential for anyone who wants to maintain healthy, beautiful trees on their property. Whether you need tree removal, pruning, or specialised treatments, a qualified arborist can help you achieve your goals. And with Cutting Edge Tree Maintenance, you can trust that you're getting the best service and value in the Newcastle, Lake Macquarie, Hunter Valley, Port Stephens, and Warners Bay areas.
Where Do Our Arborists Service?
Arborist Services Macquarie
Arborist Services Hunter Valley
Arborist Services Cessnock
What Services Do Our Arborists Provide?
Contact Us
So, when you need a tree-related service, tree removal, stump grinding and removal, dead wooding, pruning, hazardous tree assessment, consultations or anything else tree related, we're always here to help. So call us at 02 4003 4400 or by filling out the form.