Tree Pruning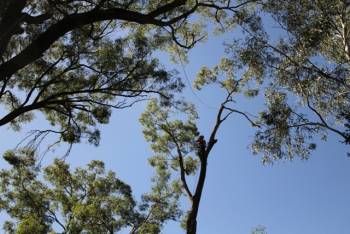 We take the responsibility of pruning trees very seriously. Our professional climbing team has a wealth of knowledge when it comes to understanding the science of how trees grow and react to certain types of pruning. As part of our first free consultation, we are more than happy to discuss various strategies for pruning for a future of vigorous, healthy growth.
Pruning is the removal of diseased, damaged and dead tree wood. It is an important part of tree maintenance. It can improve the tree's root system and energy reserves when performed at the right time and with the right cuts. Pruning will also help your tree produce an abundance of new growth, including more fruits and flowers. Another benefit of pruning is that it keeps pests away and prevents tree disease.
For most big trees, the best time to prune is late winter, when the tree goes dormant and the leafless branches can be seen more clearly. Avoid pruning in the fall when the wounds from cuts heal slower. When you prune during the summer, it is easier to see limbs that are carrying too much weight from leaves.
Types of Pruning Trees
Raising and reduction are used to create more clearance for utility lines, walkways, vehicle areas and buildings. Reduction is the process of reducing the size of the tree. Raising refers to the removal of the tree's lower branches.
Thinning a big tree involves the removal of limbs and branches where they join the tree. It can help promote new growth and increase fruit and flower production. Tree branches join together in one of three different ways: collar, collarless or co-dominant. Each has a different type of pruning method that helps prevent regrowth and decay. An arborist with climbing gear is the safest and smartest way to thin a tree.
Topping is the removal of all branches down to the tree's largest branches. Both thinning and topping are considered more aggressive types of pruning. Only an arborist or tree professional should be allowed to engage in topping a tree. Otherwise, it can be very easy for someone inexperienced to actually injure a tree or instigate the demise of a tree.
We are here to help! Just give us a phone call at 02 4003 4400 or fill out our contact form.