Tree Removal Near Me
At Cutting Edge Tree Maintenance, we take pride in offering our local customer base with exceptional service and class-leading results. By focusing on preserving the natural environment and helping you provide your trees with professional tree maintenance, we are confident that you can rely on us.
Wide Range Of Services:
Tree diagnostics and treatment
Arborist reports
Arborist consultations
Tree shaping
Our arborists are fully trained, qualified and insured.
Enjoy hassle-free tree removal of hazardous trees from your residential, strata or commercial property. You can rest assured knowing that we treat your project as our number one priority. With an exceptional track record of safety, you can engage our services with confidence, knowing that we can tackle even the most complicated project.
Removing trees can be a dangerous task. Don't risk using an amateur. At Cutting Edge Tree Maintenance, we use premium-quality machinery and professional safety protocols. We have the runs on the board. Our arborists have helped property owners with safe and reliable tree services throughout Newcastle.
As we are a locally owned and operated company, we know your local environment, council requirements and weather conditions. It is our commitment to provide you with the very best results to ensure we can keep our community looking great. We understand the local region. With close working ties with the Newcastle City Council, we make sure that all tree care tasks follow relevant regulations and guidelines.
Trust the team with local Newcastle tree removing experience.
We make sure the job is completed.
Where Do We Service?
Newcastle, Lake Macquarie, Port Stephens, Warners Bay, Hunter Valley, Cessnock, Maitland, Raymond Terrace, Charlestown, Wallsend, East Maitland, Merewether, Rutherford, New Lambton, Mayfield, Medowie, Thornton, Maryland, Warners Bay, Belmont, Edgeworth, Cardiff, Adamstown, Valentine, Eleebana, Toronto, Elemore Vale, Adamstown Heights, Cameron Park, Metford, Swansea, Waratah, Ashtonfield, Stockton, Hamilton, Kotara, Shortland, Cooks Hill, Gateshead, Glendale and Mount Hutton.
Are you just outside our service region? Give us a call today on 02 4003 4400 and let's see if we can organise something to help you.
If you have a complicated or challenging tree to be removed on your property, don't hesitate in giving us a call today. We are happy to help you know what techniques and machinery we will use to provide you with the best results to suit your needs and budget.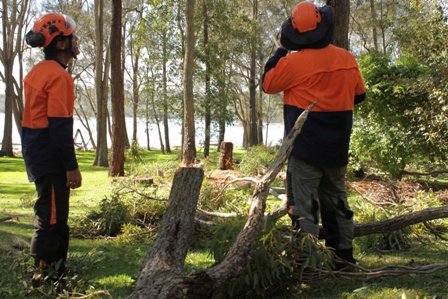 If you have been on the search for the best "arborists near me", we are confident that we are the perfect match for you.
Professional
Reliable
Safe
Cost-effective
Would you like to discover our competitive rates? Then, give us a call on 02 4003 4400 or send a message today to request a no-obligation quotation.
We provide a comprehensive range of arboriculture services. Our team has worked hard to forge a reputation as the leading team of Newcastle arborists. It is our goal to continue delivering tree services that you will be happy to recommend to your family, friends and neighbours. Each member of our team is focused on our safety-first ethic, which ensures we can maintain our high standard of safety excellence.
We take the time to ensure the job is completed safely. Thanks to our extensive experience at the forefront of the industry, we have developed comprehensive safety methodologies that instil confidence and assurance. Our arborists have invested heavily in creating a comprehensive Workplace Health & Safety Policy. All staff have been trained in their respective tasks and are audited to ensure safe operations.
Why Choose Us?
Honest and reliable local experts
Safe and efficient arborist services
Servicing all suburbs in Newcastle and Hunter Valley
Fully insured, trained and licensed
Competitively priced
We Are The Newcastle Tree Removal Experts
No matter the size or species of tree you need to be removed, we have the expertise, equipment and experience to provide you with the results you demand. Our focus is to provide a safe and reliable tree service from the first point of contact, right down to the last leaf. For the team that is at the cutting edge of the industry, you know who to call.
We view every tree, plant or part of your property as an asset and put into place systems that ensure no damage.
Do you need any of the following questions answered?
Can you remove a tree in Newcastle from your private property without a Council permit?
What are the consequences of removing or damaging a tree without the proper permit or consent?
How can you submit a Newcastle tree removal application?
What is the cost of submitting a private tree removal application form to the City of Newcastle Council?
What can I do if my neighbour does not want a tree removed?
We are ready to help. So give us a call and take advantage of our decades of experience in the industry.
Thanks to our loyal customer base, we are glad to have built up a 5-star rating on Google. We have gathered the very best arborists, landscapers, tree surgeons and tree shapers to ensure you are provided with unbeatable results.
Our team works together seamlessly, and this shows our family-like service and communication. We are ready to team up with you to ensure your garden and landscape is in the very best condition. It doesn't matter the size or function of your property; we are ready to provide you with expert arborist services. From private homes in Port Stephens to Government buildings in Newcastle, we offer expert services with rates that will be sure to impress.
Knowing when to remove a tree requires extensive horticulture expertise and insight. We are confident that we can offer a streamlined assessment to help you to make an informed decision.
Give us a call today, and let's talk about how we can help.