Tree Diagnostics and Treatment
Proper tree care is required to keep trees healthy and live a long life to serve the purpose for which they were planted. Our Newcastle tree removal experts are ready to assist you. Give us a call on 02 4003 4400 for a free quote.
Tree protection begins with a comprehensive inspection of your trees by one of our certified arborists. During this inspection, your arborist will be able to determine the overall health of the tree and, if sick or diseased, recommend appropriate treatments which can improve the health of your tree.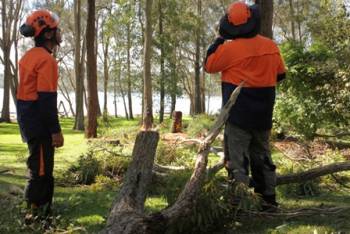 Trees are living beings that can contract different diseases. Each disease has its own specialized cure, and only a professional with experience can know about them all. Diseases can be associated with the trunk, the branches, or the leaves or the root system. Wherever the disease is, it could be serious, and only an arborist will be able to provide the correct diagnosis. The survival of the tree depends on the proper identification and treatment of the disease.
Even though the sickness of the leaves, whether they are related to pests or diseases, may be easy to see, they are not easy to identify unless you have the proper knowledge. The roots of trees provide sustenance for the tree, and if that is diseased, then the whole tree is affected. Roots are the most difficult to diagnose since they grow underground and cannot be seen by the naked eye. Various diseases attack the roots, and only an arborist will be able to determine what is happening.
Even the trunk or branches of trees could have diseases that are hard to identify unless you have the proper knowledge to be able to spot them and give the right treatment. Tree care is an essential thing and cannot be left to someone inexperienced. Adding many years of life to your tree is our goal. Trees serve such an important role in our lives that it is important for us to make sure they have a healthy life. We would much rather offer treatments that have to deal with tree removal.
Contact Us
We are here to help! Just give us a phone call at 02 4003 4400 or fill out our contact form.