What Exactly Is Tree Lopping?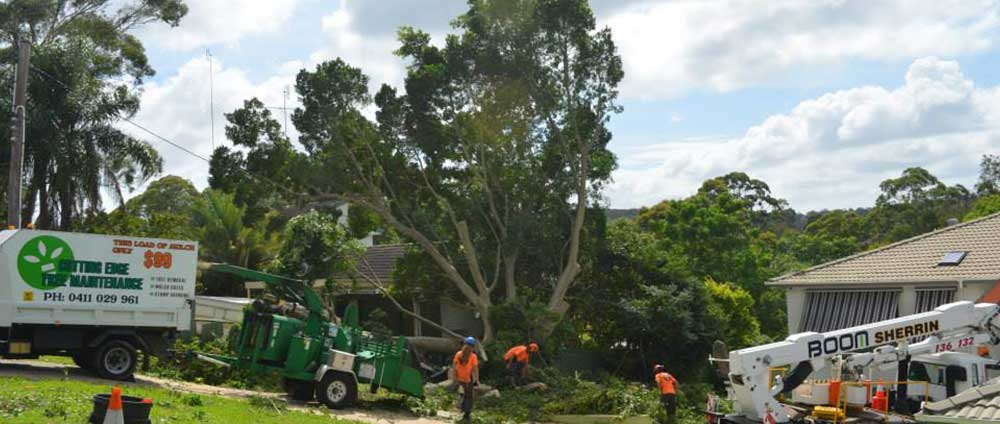 Tree lopping is a serious responsibility; if done wrong, it could become weak and break, or the tree could die from an illness. But more seriously, if a large branch breaks off, this could potentially hurt someone in your garden, or the neighbour's, not to mention property damage.
Mainly there are better alternatives to lopping. Keep on reading to see what alternatives there are, when lopping is needed and who should carry it out.
First of all, let's look at tree lopping and why it's different from tree pruning…
What is Tree Lopping?
Tree lopping refers to removing branches from the upper part of the tree to change the height and shape of the tree, unlike pruning the tree, which is done to remove diseased, damaged and dead wood and encourage new growth. Pruning is a crucial step in tree maintenance. On the other hand, lopping is more for appearance than for the tree's health and should only ever be done by professional arborists!
How often can I have my tree lopped?
As we said before, tree lopping is a serious responsibility and should only be done by professionals. Having said that, in certain cases, lopping is recommended; for example, sometimes a tree will get too close to a powerline, and lopping might be needed. If done by an arborist, trees can be lopped up to 2 times a year, unlike tree pruning which should be done yearly. But in this case, less is definitely more! If you think that your tree might need lopping, call Cutting Edge Tree Maintenance today for a free consultation.
Can lopping damage the tree?
Long-term, lopping can do more harm than good. So let's take a quick look at the 4 most common and most worrying concerns that can be caused by tree lopping:
Sunburn
Starvation
Stress
Breakage
Sunburn
You might think that a tree can't suffer from sunburn, but if you take away shade and leave us directly under the hot Australian sunlight we burn, and a tree can suffer from sunburn in the same way. This can cause the bark to dry out and crack, causing irreversible damage and making it susceptible to bacteria and pest invasion, which in extreme cases can even cause part of the tree or even the whole tree to die off.
Starvation
As we all know, a tree receives nutrients thanks to photosynthesis, a biochemical reaction that happens in the leaves of the trees, converting light energy into chemical energy. When a large percentage of the canopy is removed, and in turn its leaves, the tree struggles to receive the nutrients and energy reserves the tree needs to grow strong. This can be one of the main causes of the next problem…
Stress
Stress makes the tree vulnerable to diseases and decay. Among other things, if the tree is struggling to feed itself, it will try to create new shoots as quickly as possible. This, of course, causes the tree stress, which uses up valuable resources. If the tree doesn't have enough resources stored up, it can lead to death. This takes us to another major problem caused by lopping…
Breakage
When the tree struggles to get enough food or to protect itself from harsh direct sunlight, it creates new shoots. These shoots are called Epicormic Shoots, which start just below the tree bark, barely attached to the tree. As they don't grow deep from within the tree, they tend to be weaker. But, of course, those sprouts can eventually become big heavy branches, and all it takes is a strong wind, heavy rainfall, or even just its own weight to break off. This can cause damage to your property or neighbouring property, and in the unlucky event of it falling on top of someone, the repercussions can be dire!
What alternatives are there?
In most cases, there is no need for lopping. However, pruning done by an expert arborist can remove excess weight, thinning the tree to minimise risk. Pruning, of course, is beneficial to the tree, making sure it grows stronger and healthier, encouraging it to grow strong, minimising the risk of damage to surrounding property or injury to anyone nearby.
In extreme cases, you might need the service of tree removal in Newcastle, which is another job best done by professional climbers.
Can I lop my own tree?
As we've mentioned various times before, and we can't stress it enough, tree lopping is not a simple task! It should only be done by experts, specialised in the task. If not, the consequences can lead to the death of the tree or someone walking by.
Why call us?
We are locally based in the Newcastle area, fully licenced and insured, so you don't have to worry about a thing.
We take pride in our work; professionals arborists who want the very best for your tree! Our team is fully trained and specialised in tree removal, pruning, diagnostics and treatment, stump grinding, and even tree lopping when it's really needed!
Don't run the risk; call us today on 02 4003 4400 for a free consultation by Newcastle's #1 arborists!